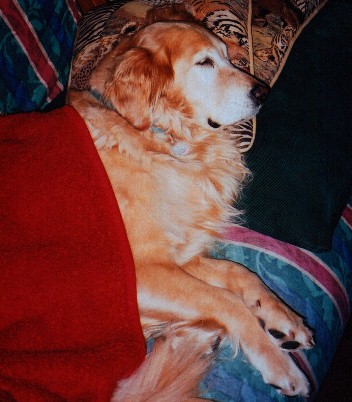 "CHI" (EXCELSIOR JULIETTE (CHIANTI))
Chi was our foundation bitch, medium gold, beautiful personality, has had four litters with Beau a total of 39 pups and "officially" retired. Hip, eye and heart clear. Noted ancestors - CH Asterling's Wild Blue Yonder (James) - Falcon Lake's Golden Karma - CH Happy Acres Terminator.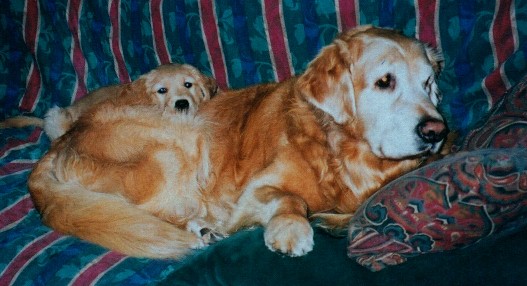 "BEAU" (KATHISHAVEN BEAUJOLAIS)
Our first stud dog (sire to 48 pups and "officially" retired) and resident gentle giant. Beau is medium/dark gold good bone density with a square head and a total suck. Hip, eye and heart clear. Noted ancestors - CH Hallteee's Niner Tango Charlie - CH Thornfield Halltree Notalark - CH Sugarbear's Shannon Boy.
These two (CHI and BEAU) were the foundation of our breeding programm and parents to 39 of the most beautiful, loving goldens.  Their super temeraments still live in our dogs today.
---
"CHAMMY" (ASPENGOLD'S BUBBLING CHAMPAGNE)
April 22, 1991 - October 26, 1998
Waiting at the Rainbow Bridge - we miss you Chammy.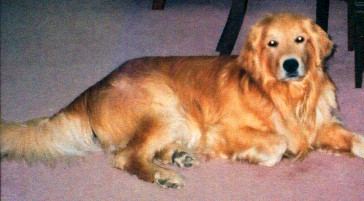 "AUSTIN" (CLEARVIEW AMBERTRU HEZAKEEPR)
March, 1998 - June, 2004
Taken too soon and without warning. We mourn him everyday. Austin is with Chammy at the bridge.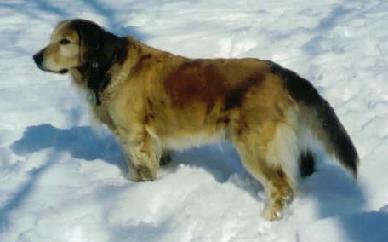 "RUBY" (ST. ANDREW RUBY TUESDAY)
Ruby has gone to retrieve at the "Bridge". To her, "retrieve" not only meant her ball, but also, moving things from one place to another. Now her ball is still and everything is in it's proper place.........and we don't like it.